What many businesses are facing during the COVID-19 pandemic is unprecedented and the ramifications are far-reaching, irrespective of geography or industry. In times of uncertainty, clear, effective communication can provide reassurance and strategic vision – helping lay the groundwork for future successes – internally, within an organization, and externally, with business partners. Getting it right is arguably as important today as it ever has been historically.
WHY IT'S MORE IMPORTANT THAN EVER TO GET IT RIGHT
For business professionals tasked with international communications (both internal and external), the challenges of today's business landscape can feel overwhelming. No longer do we have the live, in-person support of interpreters. No longer do we have physical access to multilingual colleagues whom we have historically leaned on for translation support. However, as anxiety builds and remote work continues into week #? (what day is it again?) – we can glean insights from those who've overcome language barriers throughout years of international business travel, and these insights will undoubtedly prove to be useful as your organization traverses its new (professional) normal.
We surveyed 1,060 international business professionals to understand their success and failures relative to translation, interpretation, and cross-language communication. The results provide a glimpse into how businesses can help support those communicating internally to staff and/or externally to business partners as the professional world shifts in response to the COVID-19 pandemic.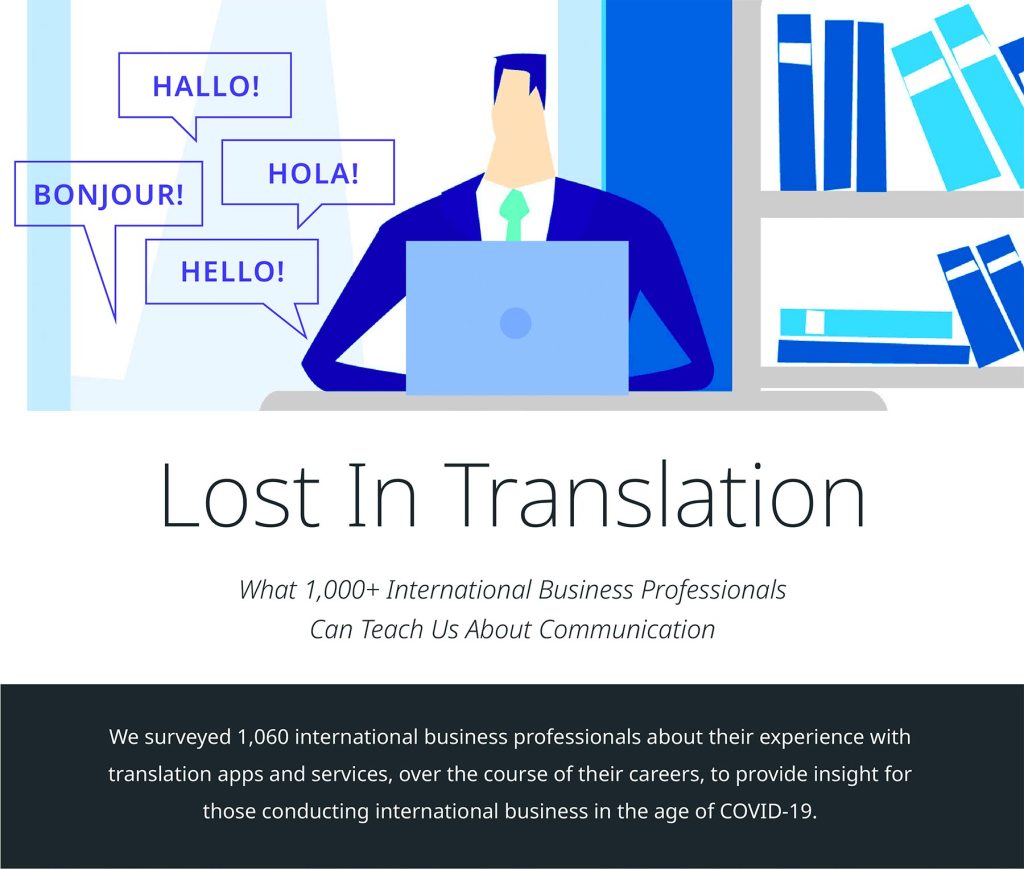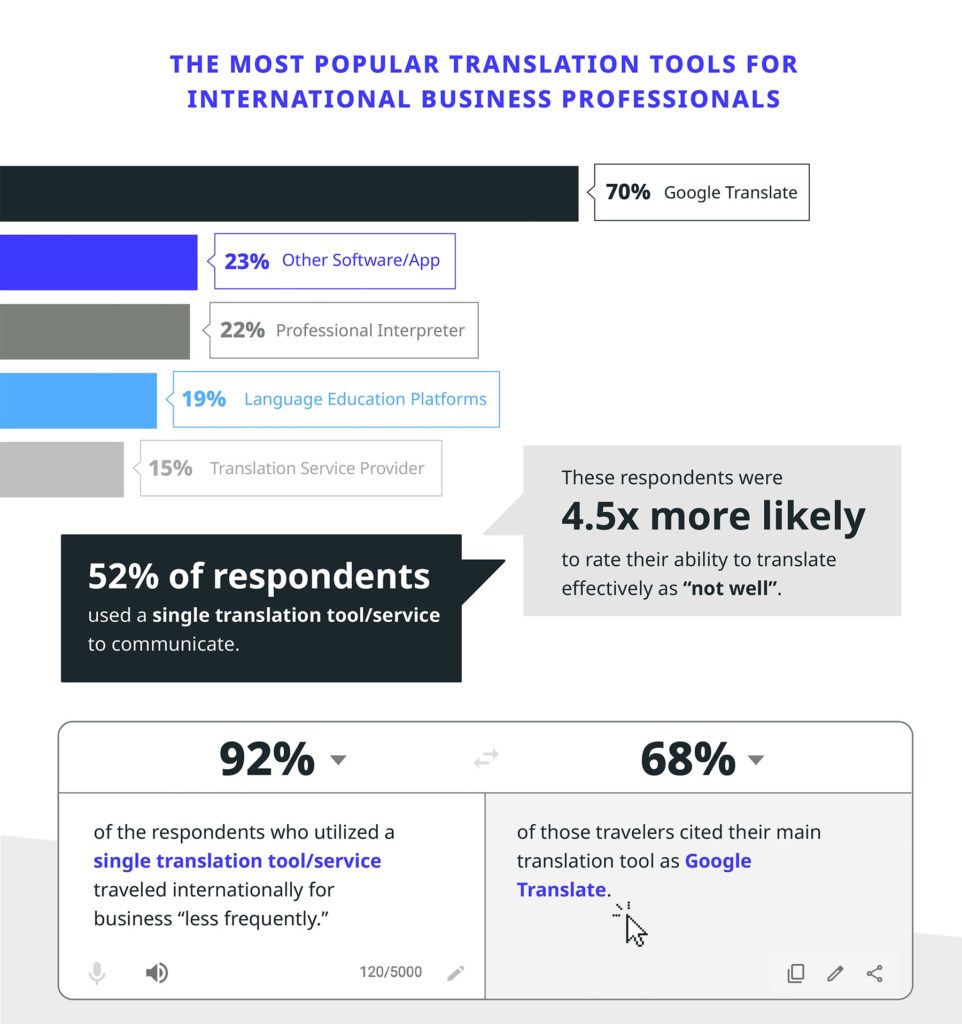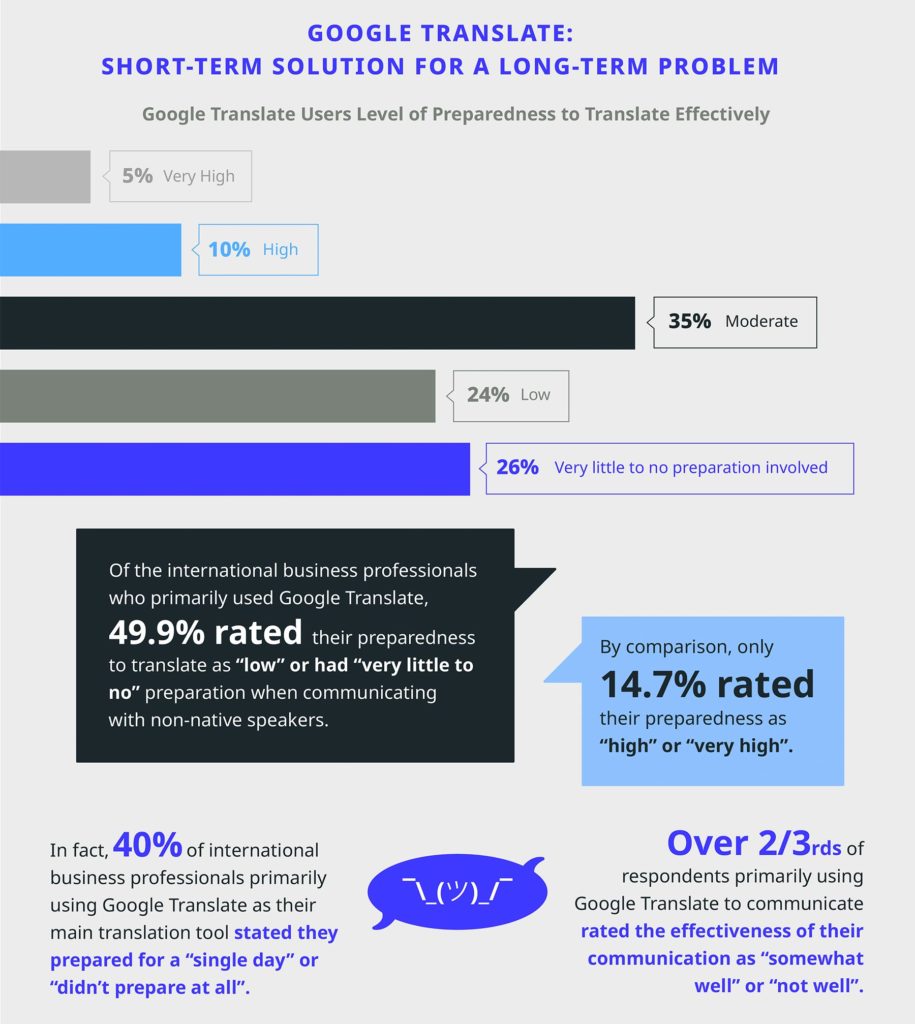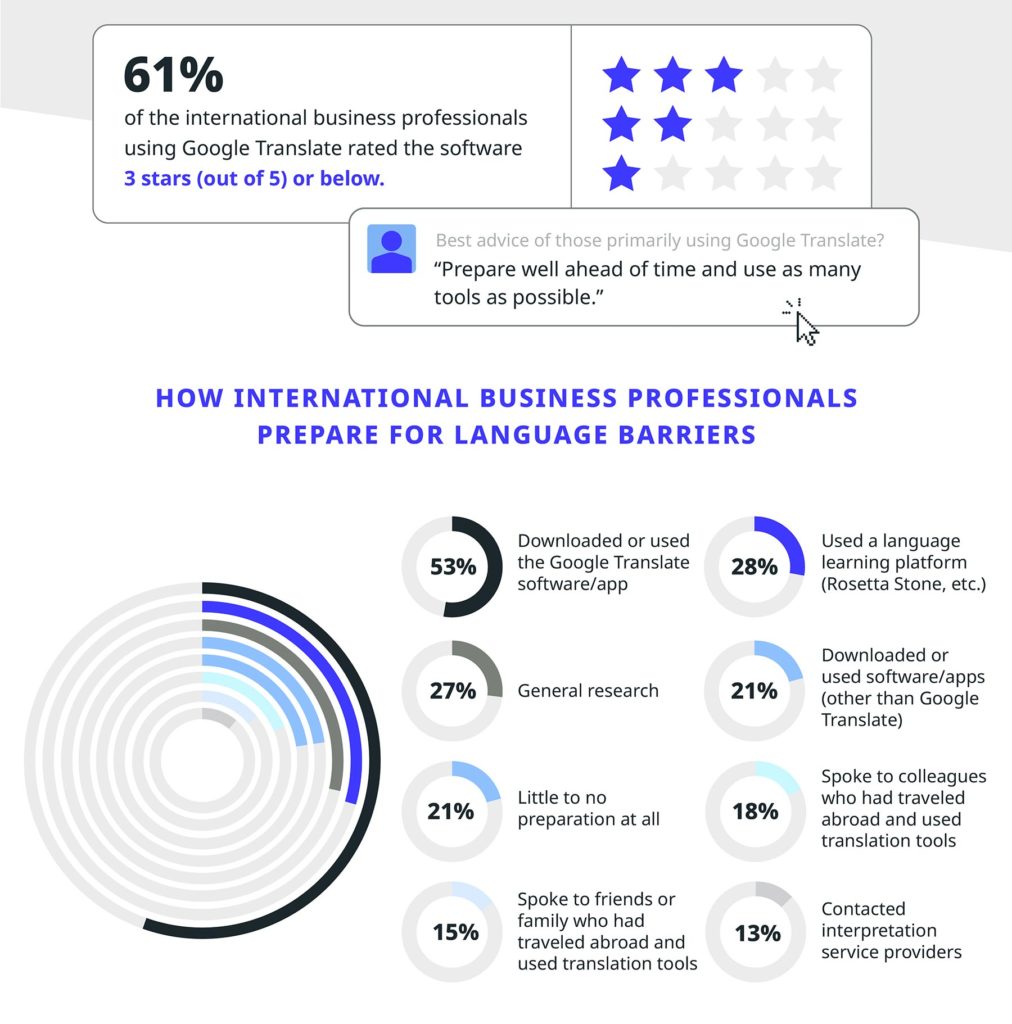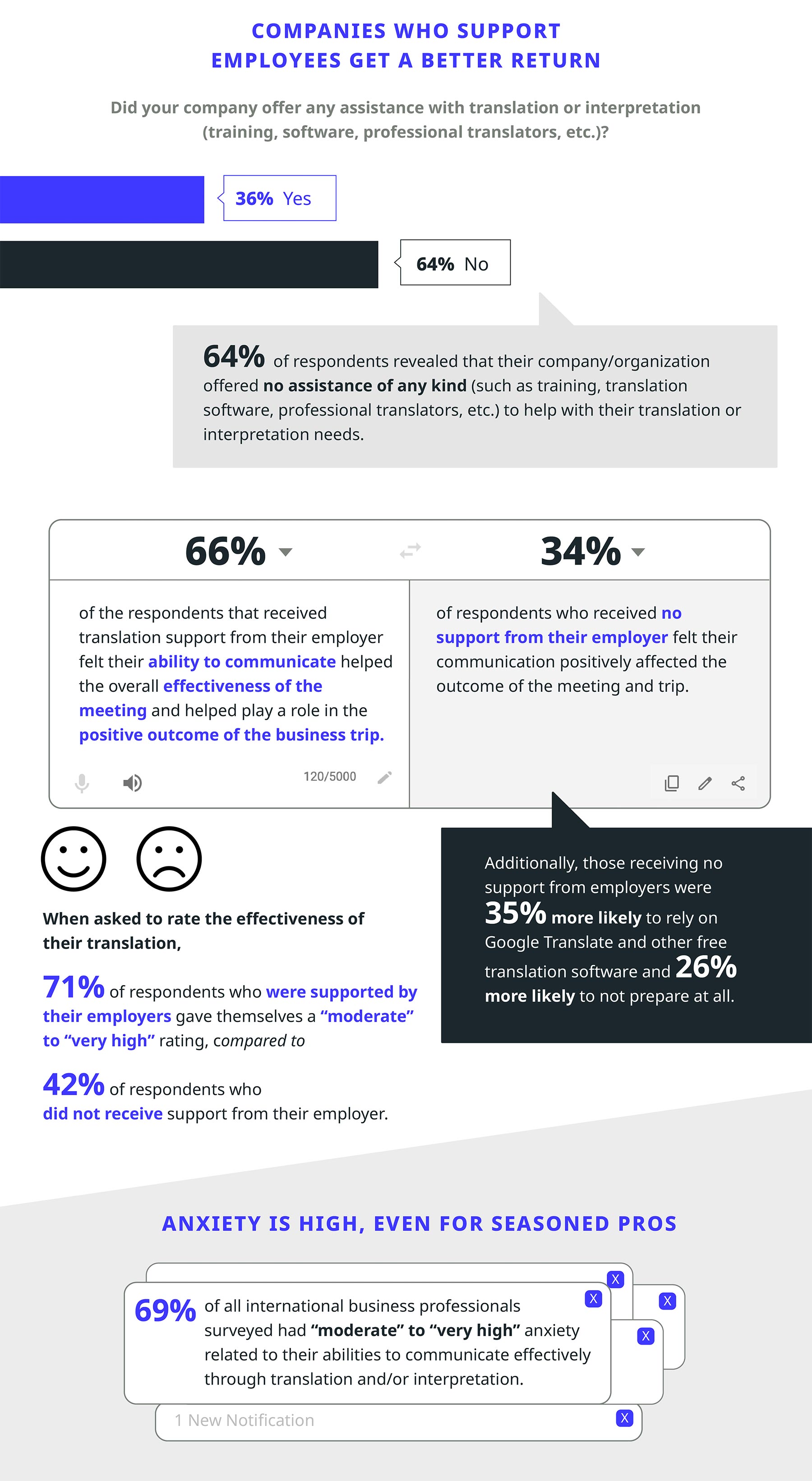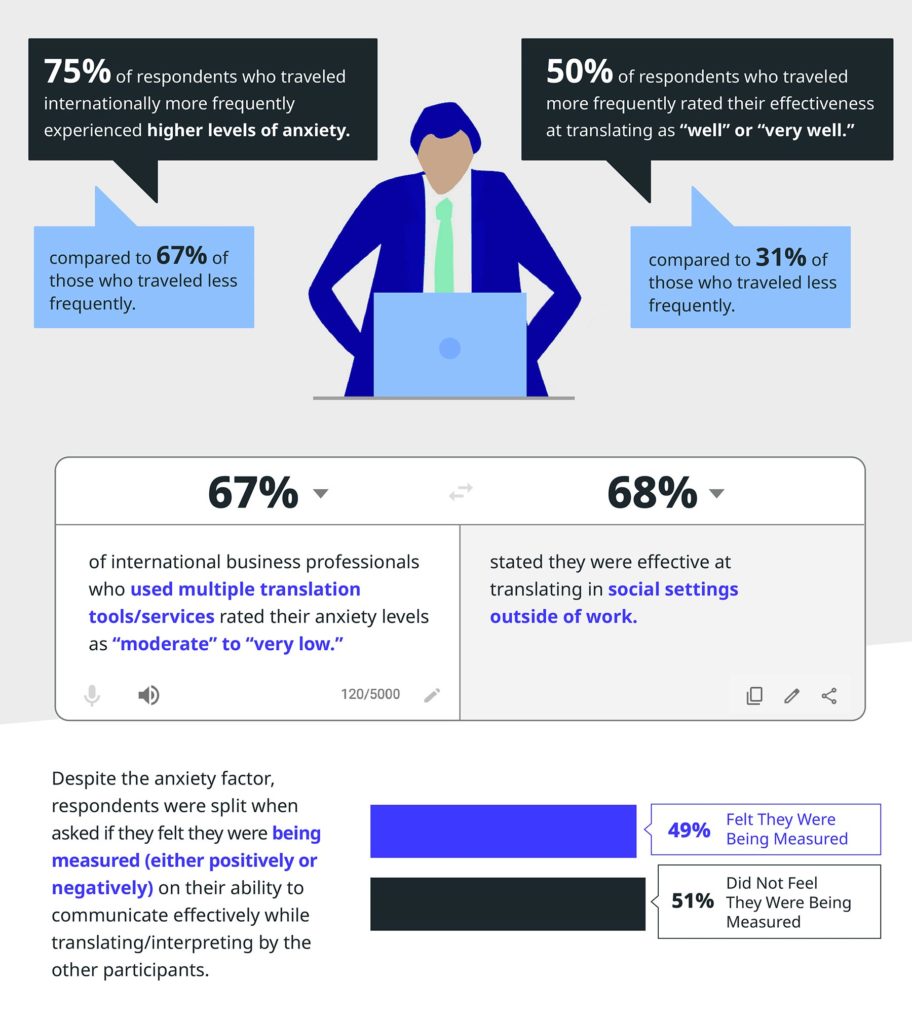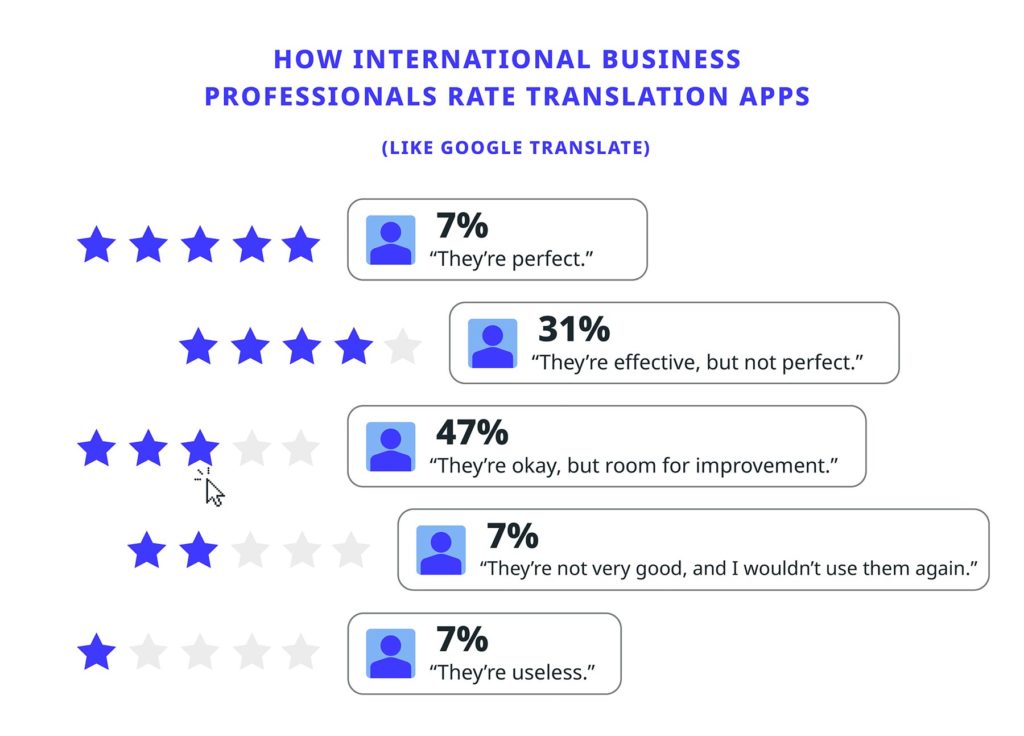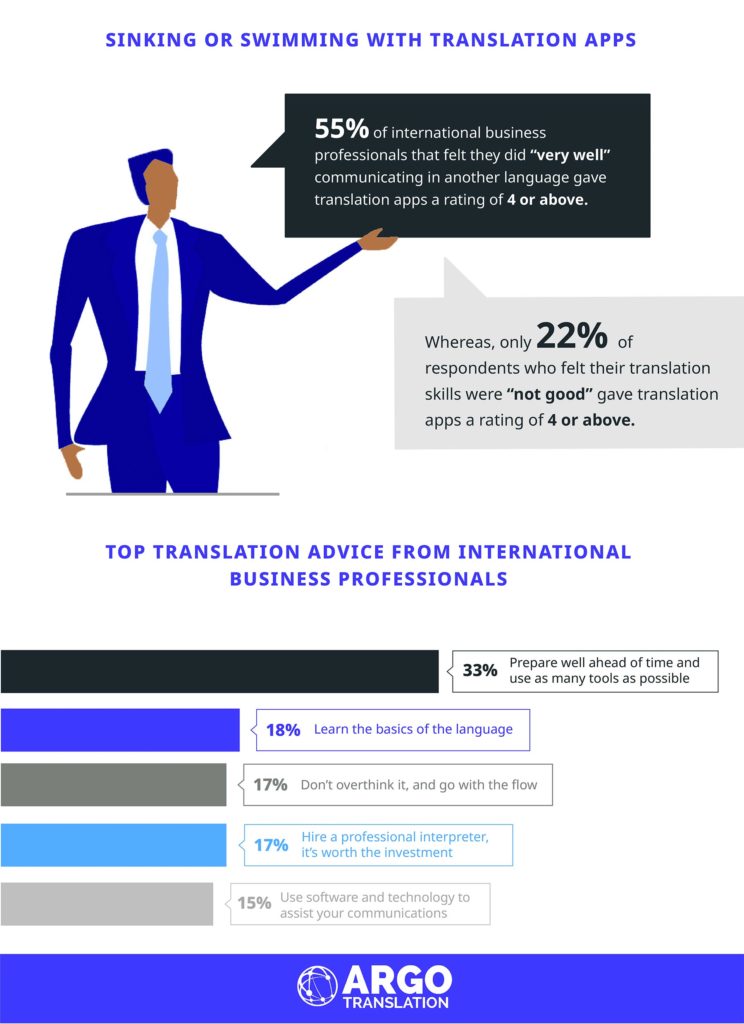 Google Translate: Short-Term Solution for a Long-Term Problem
It was immediately apparent that Google's translation software/app "Google Translate" is widely used, even amongst the most seasoned international business professionals. What also became clear was that the respondents were not confident that Google Translate was effective. To further illustrate, two-thirds of respondents primarily using Google Translate to communicate rated their communication as "somewhat well" to "not well" (on a scale of "not well" to "very well"). Additionally, 61% of respondents using Google Translate rated the software 3-stars or less (out of 5).
Advice: According to the respondents predominantly using Google Translate, 40% stated they prepared for a "single day" or "didn't prepare at all". Their advice? Prepare far in advance and use as many tools as you can that are at your disposal. While Google Translate continues to improve its accuracy, it's always a good idea to cross-reference with another tool or a native speaker when possible.
Companies Who Provide Translation Support Benefit
As organizations brace for the unknown and implement contingency plans, it's often difficult for decision-makers at said organizations to see the forest through the trees and invest in areas that will provide perennial returns. According to the international business professionals we surveyed, those who worked for companies that provided translation and interpretation support saw much better results from their efforts – when compared to those who received no support.
Interestingly, only 36% of the international business professionals surveyed stated they received any form of support for cross-language communication (such as training, translation software, document translation, etc.). Of those who received no support, only 34% felt their communication positively affected the outcome of the correspondence.
On the other hand, 67.1% of the respondents that had received translation support from their employer felt their ability to translate helped the overall effectiveness of the communication and played a role in the positive outcome of the meeting/correspondence.
When asked to rate the effectiveness of their translation, respondents who received support from their employers gave themselves a "moderate" to "very well" rating (on a scale of "not well" to "very well"), compared to the 42% of respondents who did not receive any support from their organization.
Respondents receiving no support from employers were 35% more likely to rely on Google Translate and other free translation software, and 26% more likely to not prepare at all.
Advice: If you're a decision-maker in your organization, and have the ability to support those who perform cross-language communication internally and externally, translation support should be prioritized, particularly during the pandemic. If you're an employer who has not historically supported your employees' cross-language needs, you may be negatively impacting your company's overall communications and causing your employees to seek free resources that do little to positively affect the desired business outcomes (including organizational culture).
"Our most successful customers look at translation services as an investment in connection," said Argo Translation Founder Peter Argondizzo. "A sound translation strategy will always lead to one of two things – more revenue by opening up additional markets or increased engagement with employees."
If you're an employee and have been forced to be resourceful as a result of a lack of proactive support from your employer, ask for help. Businesses are re-evaluating budgets and developing new strategies as corporations (and their employees) respond to the pandemic.
Argo is offering free translated COVID-19 safety guidelines for the 15 most common languages spoken in the U.S. Download your copy here.
Anxiety is Natural, Even for The Seasoned Pros
Even international business professionals that traveled for work "frequently" or "somewhat often" had high levels of anxiety surrounding cross-language communication. Translating communications effectively, especially during COVID-19, can be a difficult endeavor. In fact, 69% of all respondents had "moderate" to "very high" anxiety (on a scale from "very low" to "very high") related to their abilities to communicate effectively through translation and/or interpretation.
In fact, respondents were split nearly 50/50 when asked if they felt they were being measured (either positively or negatively) on their ability to communicate effectively while translating or interpreting.
Advice: According to Harvard Business Review, employees look to their managers for cues when there's a sudden change or a crisis situation the employee is facing. Providing constructive feedback and reassurance around employees' cross-language communication, especially for employees who are working remotely, can help to relieve the anxiety employees report feeling and additionally will likely reveal where areas of opportunities exist. From there, training around the specific areas where the team demonstrates signs of weakness and providing translation support, relative to those areas of deficiency, can help improve their overall output.
Conclusion
What we found after surveying over 1,000 international business professionals about their experience with cross-language communication is, like most organizational endeavors, preparedness and proactive support will likely improve outcomes. While technology has allowed for near-immediate access to translations for business purposes, prioritizing quality multilanguage communications (and the tools and services that facilitate it) is as important as it ever has been to achieve success.
Survey Methodology
Using SurveyMonkey's Audience network of proprietary panels, we surveyed 1,060 international business professionals to ask a variety of questions related to their experience with cross-language communication over their careers, focusing on their experience with translation and interpretation. All respondents who live in the U.S., are between the ages of 18-100, and have indicated that they traveled internationally for work and used a translation or interpretation service or tool to communicate. The survey was conducted between 3/27/2020 and 3/29/2020.