Certified Translation
Argo Certified Translations are backed by guaranteed accuracy, ISO registration, ATA member recognition, and regulatory compliance reporting with the addition of notarization.
When you see the Argo Translation Certified Badge you can be confident that your message will be translated with the highest quality accuracy.
What Makes a Translation Argo Certified?
ISO Registration
International Standards Organization (ISO) registrations define a set of requirements that must be in place to have a quality management system, regardless of the organization's size, product or service line, or public/private status. Certification to the standard is voluntary, and organizations must complete a rigorous auditing process by a third-party registrar. ISO 9001:2015 – Quality Standard
ISO 9001:2015 demonstrates the offering of products and services with consistently good quality. It also acts as a tool to streamline their processes and make them more efficient at what they do. ISO 17100:2015 – Translation Services
ISO 17100:2015 defines requirements for the core processes, resources, and other aspects necessary for the delivery of a quality translation service that meets applicable specifications. ISO 17100:2015 focuses on aspects of the production process that are specific to the translation industry. ISO 13485:2016 – Medical Devices
ISO 13485:2016 defines requirements for a quality management system for an organization to demonstrate in providing medical devices and related services that consistently meet customer and applicable regulatory requirements.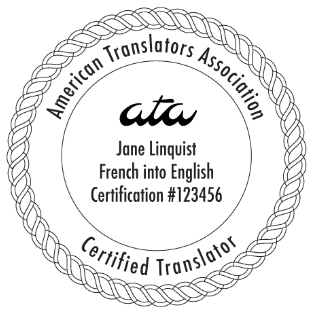 American Translators Association
ATA Certification offers qualified and independent evidence that a translator possesses professional competence in a specific language combination.
We are a member of the ATA and our translators belong to various international organizations like the ATA in the USA that recognize the knowledge and skills necessary to provide quality translation. We support ongoing continuing education and this commitment to learning reflects our translator's drive for continuous improvement and high quality.