Individuals and businesses around the world are shifting more and more towards cultivating linguistic inclusion and promoting diversity. After all, doing so—particularly for businesses and organizations—can not only drive innovation within a company but also tap into a wealth of sales opportunities. Offering multilingual support when you need it and where you need it is the heart of telephonic interpretation (TI).
In this article, we're going to run through our top five must-have telephonic interpretation resources so you can learn how to get the most out a service that removes language barriers and connects humans to humans.
#1 Let's Talk Numbers: Promoting Language Diversity
Before diving into more in-depth resources on telephonic interpretation, this article on Language Diversity and English Proficiency in the United States is a must-read as it peels back the veil on the need for TI services in the United States and reviews the benefits it would provide for the growing immigrant population.
In short, nearly 64.7 million individuals over the age of five speak a language other than English in the US as of 2015, and that number has been growing since. The top five languages spoken at home are Spanish, Chinese, Tagalog, Vietnamese, and French. While immigrants learn the English language in their schooling and at work, the population that is Limited English Proficient (LEP) has seen a steady decline: dropping from 44% in 1980 to 40% in 2015.
This resource will help present a strong case for the needs of telephonic interpretation solutions among the US population and highlight how having an interpreter for any language can help fill the gap for customers.
#2 The Telephonic Interpretation Handbook
What is telephonic interpretation and how does it work? What is the important role TI plays in various settings, such as in the workplace, healthcare industry, the legal field, and emergencies?
Argo Translation's TI ebook provides a comprehensive overview of TI services and solutions and their place in a variety of settings. While removing language barriers can invariably drive sales for businesses looking to embrace a more diverse customer base, TI is a powerful service that can aid in virtually any industry, from call centers right down to the emergency room. Learn more about how your organization or business can benefit from the quick and convenient accommodations of TI by downloading the ebook below.
#3 Argo Translation TI Blogs
Stay in the know when it comes to the telephonic interpretation industry with an up-to-date blog center that covers news, the benefits of TI, translation tips, the process, and its place in various fields.
The growth of the TI industry speaks volumes for its effectiveness in a culturally and linguistically diverse country. Healthcare specialists have long depended on TI support for emergencies and improved doctor-patient care. Similar to healthcare, government entities such as law enforcement, military, and immigration departments, too involve constant contact with individuals from diverse linguistic backgrounds and require reliable communication services.
There are over 6,500 spoken languages around the globe, and while many companies might offer a staff fluent in Spanish, Chinese, or Creole, for example, it's extremely difficult to be prepared to communicate with everyone without the assistance of a telephonic interpreter.
#4 TI Language Poster
Using TI is as easy as indicating what language you need and having an interpreter called. The goal is to offer effective communication no matter the language. So how does it work, exactly?
TI connects an individual to a professional interpreter over the phone, any day, any time, and at any location. It does not require any special equipment, and telephonic interpreters are required to maintain confidentiality through HIPA laws.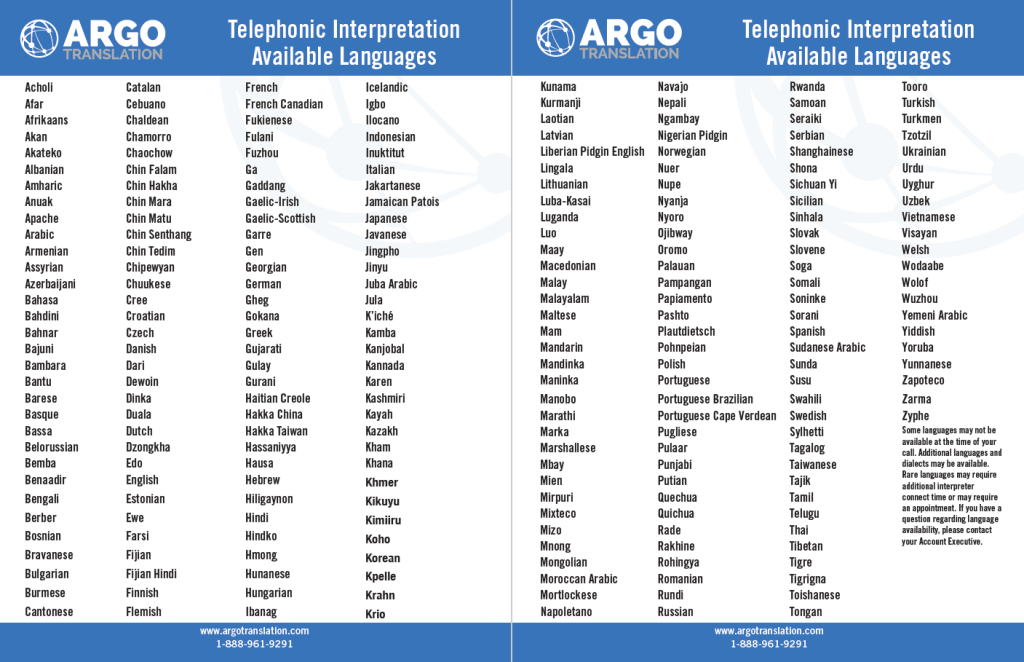 #5 Explore the World's Languages
The Ethnologue is an excellent resource that catalogs all of the world's living languages and includes useful statistics and data, such as population, language maps, dialects of a language, language use, and other notes—making it the ultimate language bible.
This authoritative resource helps organizations and businesses navigate languages quickly and easily. It provides a thorough overview of every language with guides and tools and is updated regularly. These broader insights into languages and rich data help individuals, academics, and companies around the world get the details right and make the best decisions for their clients or research.
Bottom Line
Telephonic interpretation is a unique and powerful service connecting humans to humans and breaking down language barriers. Fill the gap and increase your customer support with reliable, efficient, and easy-to-use telephonic interpretation solutions from Argo Translations.